THE FOLLOWING ARE TENTATIVE PARADE ROUTES FOR 2018.
We'll post updates (if any) as soon as they are announced.
There are two official Southern Decadence parades for 2018.

The FRIDAY NIGHT parade is a float parade through the streets
of the French Quarter presented by Toby LeFort and the Knights of Decadence.
The parade formation time is 6:15 P.M.
The parade starting time is 7:30 P.M.
There are approximately 15 floats.
The parade starts at Elysian Fields by Washington Park.
The parade ends near Bourbon and Ursulines Streets.

Here is the 2018 official parade route of the Friday night parade:

The SUNDAY AFTERNOON parade is the traditional Southern Decadence
Grand Marshal Parade. It is a walking parade with no motorized vehicles
except for one truck at the front of the parade that will carry the sound system
for the Southern Decadence Grand Marshals' entourage.
The parade formation time is 1:00 P.M.
The parade starting time is 2:00 P.M.
The parade starts near Decatur and Barracks Streets.
The parade ends near Bourbon and Dumaine Streets.

HERE IS LAST YEAR'S OFFICIAL PARADE ROUTE
OF THE SUNDAY AFTERNOON PARADE: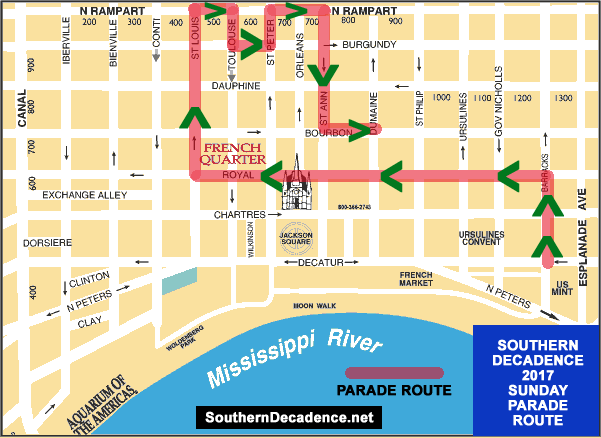 SOUTHERN DECADENCE TRIVIA

2018 is the 47th Annual Southern Decadence celebration.
However, 2018 brings us the 44th annual Sunday afternoon parade.
This is because there was no official parade in 1972,
2005 (Hurricane Katrina) and 2008 (Hurricane Gustav).

Got a question? Check our list of FAQs. Or email us at info@southerndecadence.net

Southern Decadence web site contents Copyright 2017 SouthernDecadence.net
Please read our copyright policy on the Press and Media page regarding the use of this material.
---